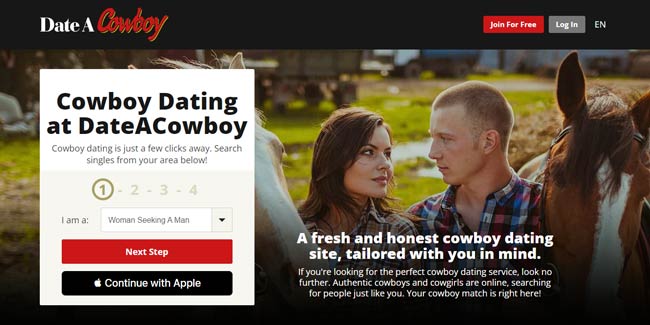 So, you've finally decided to join one of the big dating sites and you've created a kick-ass profile. Now you're staring at the empty message box overthinking your introduction and coming up with absolutely nothing. The first thing we need to tell you is not to worry. Cowboy Dating Expert has a special guide just for our visitors that will help them write the perfect first message on a Cowboy Dating Site. Secondly, we recommend you simply skip all the major dating platforms. Their user base is not that great and you'll get few replies, especially if you're interested in cowboy dating.
This is why you should consider joining sites specifically designed and created for this purpose. If you're wondering what some of them are you can check out our list of Best Cowboy Dating Sites. Almost all of these sites are free to join including the biggest one of them all Date A Cowboy. With that out of the way, we should also mention another huge advantage these sites have over the popular ones. They have the flirt option, something we talked about in one of our previous articles.

You should start your message with the usual greeting hi or hello and transition into something you did prior to sending the message. Maybe you've been shopping or listening to music? Perhaps you went to your local bar or worked on your car. This part of the message makes you relatable and honest. And it also opens new avenues of conversation. You should follow this up with a semi-formal introduction. We know this is why you've created your profile but just hear us out. What we're trying to do here is mimic real life. We're trying to give a sense of structure and direction to your connection to this person.
And the next segment of the message is probably the most important one. You should mention something about that person you like. Maybe their smile or something they wrote in their bio. This will put them in a good mood and make them more likely to respond to your message. After all, we all love compliments. Finally, you should end the message with a simple question that's easy to answer. Maybe are you originally from that city or state? Or perhaps how long have you been a member of this site? Keep a positive attitude and good things will happen. So go out there and make them happen!