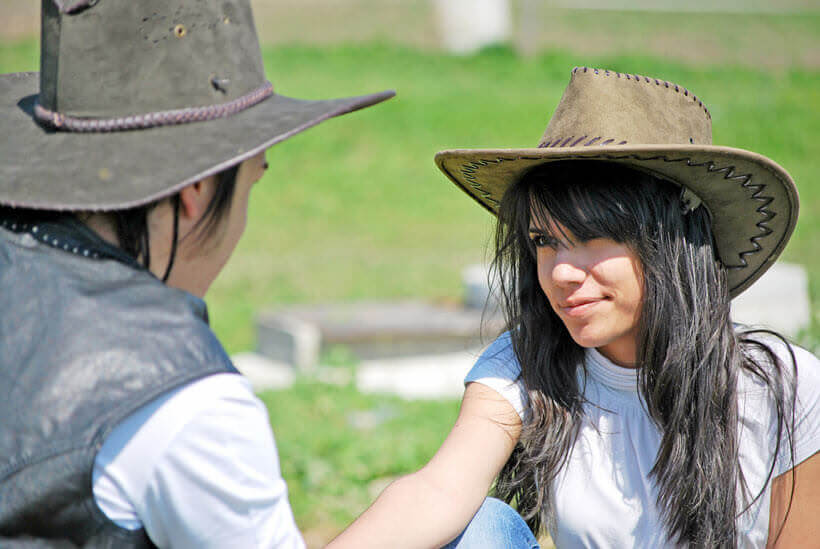 If your first date with that special someone you met through a cowboy dating site is coming up and you have no idea how to dress, don't worry, we got you covered! Of course, you don't necessarily have to dress like a cowboy/cowgirl, with the hat, boots and all. You can always wear your regular outfits with a little detail that will give it a western twist, but if you do want to go full cowboy on your date, you better do it right. As they say, go big or go home, and here's how.
For
G
uys
There are a few essential items of clothing that you absolutely need to have if you want to dress to impress in cowboy dating. First of all, a hat. Or should we say, the hat. We all know what a cowboy hat looks like, but there are some variations, mainly in terms of fabric and color. You can tell a lot about a guy just from looking at his hat, so make sure you get a real good one, not some tourist garbage. Invest in a high quality hat from a reputable hat maker, not a department store or something like that.
Next, the boots. The boots are just as important as the hat and they need to be very well made. Always, always go for leather boots. No other fabric is acceptable. Don't go for anything too flashy or extravagant, you'll look like a clown. Simple leather boots with flat heel and round or only slightly pointy tips are both stylish and a cowboy classic. Most cowboy boots require some breaking in so don't go buying them the day before your date, otherwise you'll be in for a world of pain and your date will be as good as ruined.
You will also need a pair of jeans to go with your cool new boots. It's best to stick to classics like Levi's, or, even better, to western companies like Wrangler. The leg shouldn't be too wide, this is not the 1970s, after all, and it shouldn't be too skinny either, since the jeans are supposed to go over the boot, not to be tucked in.
As for the shirt, please avoid flashy western shirts with bolo ties and whatnot. Pick a nice, plain button-down shirt, maybe even a plaid one. If you're going to have a belt with ornaments or patterns on it, stick to single-colored shirts, though.
For
Gals
Dressing is kind of tricky for girls since it's a bit difficult to dress like a cowgirl without ending up looking slutty, and that's definitely something you would want when it comes to cowboy dating. The key is to keep it simple.
Let's start with your shoes. You don't have to wear cowboy boots, but if you already own a pair, why not. Cowboy boots always look very sexy on girls. You can combine them with blue jeans or with a short skirt or shorts, they will look amazing either way. If you are going to wear jeans, avoid skinny ones and go for boot-cut or regular leg ones. Worn-in or slightly shabby jeans look great too. The pant leg can go over the boot or it can be tucked in, it's up to you.
Match your jeans with a nice, simple button-down shirt, a fitted one, if possible. It can be plaid or plain, it doesn't matter. Make sure to roll up your sleeves for the best effect.
It would be nice to top all this with a cowboy hat, but if you don't have one and don't feel like investing in one, try a bandana instead. Just make sure the color matches your shirt and tie it on the side of your head, like a bow. If you wear a hat, it's best to let your hair down. Braids or a low ponytail are also cool options for a cowgirl look.
As for the accessories, it's important not to overdo it. Avoid turquoise jewelry because it's kind of corny. You can wear a simple silver bracelet – nothing too fancy or flashy – and a few silver rings matched with simple, discreet earrings (studs). If you don't already have a bandana on your head, you can wear one around your neck. Make sure the pattern isn't too aggressive. Finally, you will need a belt. It absolutely has to be a high quality leather belt with a simple yet striking buckle.